---
487,251 of 600,000 signatures
Emmanuel Macron, Président de la République
Petition
Support a glyphosate-free future, by publicly opposing renewed authorisation of this toxic pesticide in the European Union, and with a plan to to support farmers.
We ask you to make this public commitment immediately, as an essential component of the broader objective of an accelerated exit from synthetic pesticides and the transition of our agriculture and food system.
Why is this important?
Bayer-Monsanto's toxic, bee-killing pesticide just won't go away. [1] [2]
Together, we fought to ban glyphosate in Europe. But EU discussions for it to stay on the market are underway. And Bayer-Monsanto lobbyists are bombarding European leaders with biased studies to make their case. [3]
We have a big opportunity to stop this. The French president Emmanuel Macron has already said, when he takes on the highly influential EU presidency in a few weeks, he will push for "an accelerated phase-out of pesticides". [4] [5] And, above all, with the French presidential elections around the corner, Macron will be under pressure to deliver on his promises.
But unless we keep the pressure up, it could be all talk. With Macron's political future on the line, he will want to protect his reputation as a European leader who follows through with his commitments, both in France and throughout Europe. And a massive petition beyond the French borders to show him that all of us are watching could make sure he does just that.
References:
The German chemical and pharmaceutical company Bayer successfully completed the acquisition of Monsanto in 2018. https://media.bayer.com/baynews/baynews.nsf/id/Bayer-closes-Monsanto-acquisition
The IARC (International Agency for Research on Cancer), an agency of the World Health Organization, concluded in 2015 that glyphosate is genotoxic and carcinogenic to animals and "probably carcinogenic" to humans. IARC based its analysis on studies published by academic researchers in scholarly journals: https://publications.iarc.fr/549 ; "Glyphosate perturbs the gut microbiota of honey bees", Erick V. S. Motta, Kasie Raymann, Nancy A. Moran, Proceedings of the National Academy of Sciences Oct 2018, https://www.pnas.org/content/115/41/10305
Two internationally renowned toxicologists confirmed in the summer of 2021 that the vast majority of the 53 studies that formed the basis of the European authorities' opinion on the genotoxicity of the pesticide do not meet the criteria for compliance: https://s3.amazonaws.com/s3.sumofus.org/images/Evaluation_scientific_quality_studies_genotoxic_glyphosate.pdf
As President of the Council, France will set up the European work agenda for this period and will even influence it for the next year and half. The presidency of the Council rotates among the EU member states every 6 months. During this 6-month period, the presidency chairs meetings at every level in the Council, helping to ensure the continuity of the EU's work in the Council Member states holding the presidency work together closely in groups of three, called 'trios'. The trio sets long-term goals and prepares a common agenda determining the topics and major issues that will be addressed by the Council over an 18 month period.
Emmanuel Macron's commitment at the World Congress of the International Union for Conservation of Nature (IUCN) in Marseille on September 4: "I want the French presidency of the European Union to take an initiative on the subject of pesticides, and I am committed to doing so here, for an accelerated phase-out of pesticides" In video and transcript [in French] : https://www.elysee.fr/emmanuel-macron/2021/09/03/ceremonie-douverture-du-congres-mondial-de-la-nature-de-liucn
In partnership with: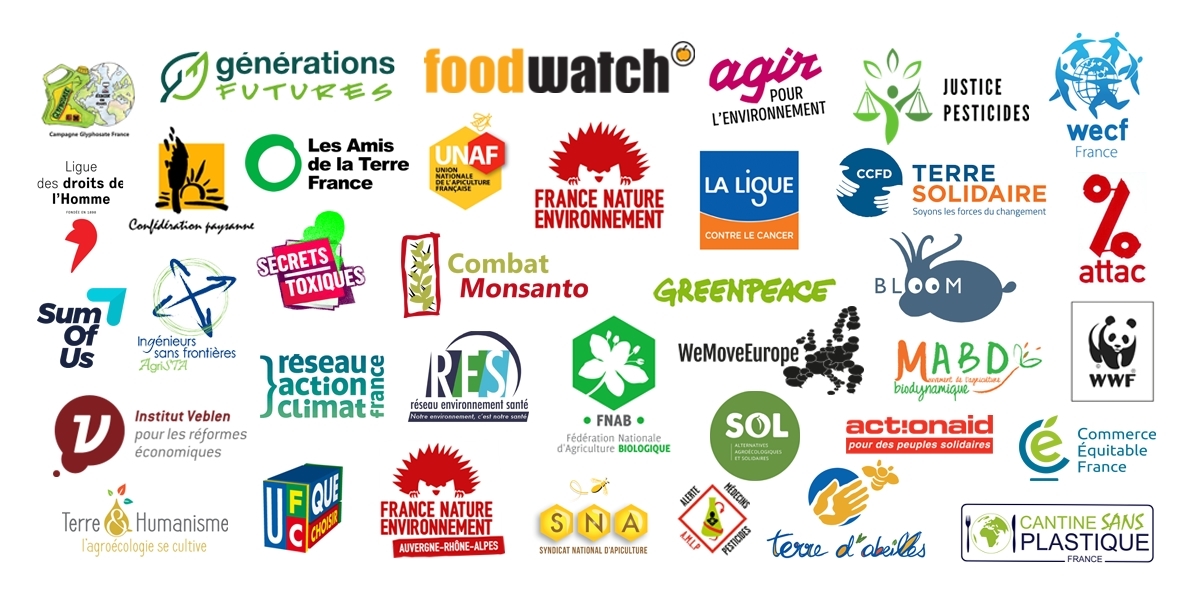 Thanks for signing! Your signature has been added.
Thank you for your call to Emmanuel Macron to ban glyphosate in Europe!
WeMove Europe is an independent European organization fighting every day for a better Europe.
We depend entirely on donations of members like you, and receive no money from governments or companies.
Your donation, no matter how small, will allow us to implement all possible actions to convince President Emmanuel Macron to support a ban on glyphosate in Europe.
Other ways of giving
You can transfer your donation to our bank account
Please include your email address as payment reference
WeMove Europe SCE mbH
IBAN: DE98 4306 0967 1177 7069 00
BIC: GENODEM1GLS, GLS Bank
Berlin, Germany
We want to be transparent and accountable about how we spend your donations - for more information please see our
Donation Policy
.
Your personal information will be kept private and held securely. By submitting information you are agreeing to WeMove Europe keeping you informed about campaigns and agree to the use of cookies in accordance with our
privacy policy
.