---
Thank you for your interest in this petition to stop global corporate courts and hold transnational corporations to account for their human rights violations. While this petition has been closed, WeMove.EU will continue to campaign against corporate privileges and the Multilateral Investment Court. Stay tuned! Take a look at other campaigns that could be of interest to you here.
www.wemove.eu
1,017,041 of 1,200,000 signatures
To the President of the European Commission, the presidency of the EU Council, representatives of EU Member States and Members of the European Parliament
Petition
Today's trade and investment agreements give transnational corporations far reaching special rights and access to a parallel justice system to enforce them.
We call on the EU and Member States to End these privileges by withdrawing from existing trade and investment agreements containing them, and not to conclude any such agreements in the future.
We also call on the EU and Member States to support the achievement of a UN binding treaty to hold transnational corporations to account for human rights violations, and end their impunity. The EU and Member States must enshrine in their laws the duties of corporations to respect human rights and the environment throughout their operations worldwide. People affected by corporate human rights violations must have access to justice.
Why is this important?
UPDATE - 17 January 2020
Right now, corporate elites are meeting in Davos at the World Economic Forum. CEOs and magnates will meet in a Swiss resort to drink cocktails behind airtight security.
The goal of this meeting? To prepare their strategy for 2020 to increase their power at our expense. [1]
One of their big projects is the revival of obscure courts to bully those governments that dare to stand up to their power. For example, over the past year, a giant German energy corporation has been threatening to sue the Netherlands for closing down a coal power station. [2] These corporate courts play a major role in destroying our planet.
But there is hope - we also have a plan. Our movement has already got almost 700,000 signatures on a petition calling EU countries to stop corporate impunity. Now there are only a few days left to sign before the petition is delivered to Davos. In 3 days, the Davos meeting will be over.
Can you help us get to a million signatures by the 24th January?
********************
UPDATE - 2 February 2019
Multinational companies use their influence to capture politics, every day. But they want more. They want their own justice system. A whole parallel system of courts by corporations, for corporations.
And guess what? The European Parliament could give it to them in less than a week. On 12 February, the European Parliament is due to vote to approve an investment agreement between the EU and Singapore. It could hand corporations huge powers - a special court only accessible for them - to bully our governments and win huge sums of public money. [3]
Our mobilization could swing the vote of key MEPs in favour of the defeat of the EU-Singapore investment deal. Such a victory would show that EU citizens don't support a system where big companies can sue governments and could have huge repercussions for the whole investment policy of the EU!
This system of corporate courts already exists, but the EU wants to expand it. It is called Investor-State Dispute Settlement (ISDS). It allows multinational corporations to sue governments that dare to stand up to their power. Under the secretive ISDS, they have sued countries for anything from raising the minimum wage or introducing a moratorium on fracking. [4]
If the EU-Singapore deal is passed, it could bring the same ISDS system to a whole array of new trade agreements to be passed in 2019. We could see ISDS introduced in similar deals with bigger economies. Including with the USA or Japan.
Three years ago, we stopped the EU-US agreement, the TTIP, which would have increased the power of big multinational corporations.
You can help do it again to stop this privilege for multinational corporations - which was the most dangerous part of TTIP.
References:
The theme of the 2020 World Economic Forum is "stakeholder capitalism", i.e. that a firm focuses on meeting the needs of all its stakeholders, from customers to society as a whole. This theme has been already included in the Davos Manifesto in 1974 which describes a firm's principal responsibilities towards its stakeholders: https://time.com/5742066/klaus-schwab-stakeholder-capitalism-davos/
https://corporateeurope.org/en/2019/12/how-big-coal-could-sue-netherlands-sabotage-climate-action
According to the United Nations, these systems on average award €477 million from public budgets, our tax money. https://unctad.org/en/PublicationsLibrary/diaepcb2017d1_en.pdf
http://isds.bilaterals.org/?-key-cases-&lang=en
In partnership with: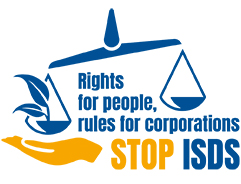 Thanks for signing! Your signature has been added.
Our WeMove community has been campaigning for years to end corporate privileges and impunity. We now have the unique opportunity to call the EU Parliament to vote against a system where the corporations can sue governments! It depends on whether our voice can prevail over the corporations which always want more power at the expense of people's rights!
This will be a long battle, and to run a proper campaign we need funding. To be ready to mobilise and put pressure when and where it's most needed, we need the stability and flexibility that only small regular donations from WeMove community members like yourself can provide.
Can you chip in each month and help the fight against corporate courts and corporations impunity?
Other ways of giving
You can transfer your donation to our bank account
WeMove Europe SCE mbH
IBAN: DE98 4306 0967 1177 7069 00
BIC: GENODEM1GLS, GLS Bank
Berlin, Germany
Donate with

We want to be transparent and accountable about how we spend your donations - for more information please see our
Donation Policy
.
Your personal information will be kept private and held securely. By submitting information you are agreeing to WeMove.EU keeping you informed about campaigns and agree to the use of cookies in accordance with our
privacy policy
.