---
This vote pledge is now closed. The EU election took place between 23-26 May 2019.
Together, we collected pledges to vote from tens of thousands of Europeans, encouraged our friends and families to vote, and coordinated massive elections events across the EU on 19 May 2019. Please take a look at other campaigns that could be of interest to you here:
www.wemove.eu
70,672 of 100,000 signatures
Sign the Pledge:
I choose hope over fear, and pledge to vote in the 2019 European election that will be held between 23 and 26 May.
I stand for a united Europe that is committed to solidarity, equality, the flourishing of our democracy, the promotion of human rights for all, and the prevention of climate chaos.
Why is this important?
This May, there will be an election to determine the future course of the European Union as we know it. The election only happens once every five years, and it decides who will lead the EU and vote on EU-wide laws for the next five years.
But this year's election is different. There's a powerful rising threat, hungry for a different direction. Hateful extremists who want to divide us with their agendas of hate have their eyes fixed on this election. If the election results go in favour of the likes of those who want to destroy Europe, it would have a profound impact on both European and national politics for years to come.
Many of us hope for change. We want a more equal, welcoming and happier Europe where all kids can grow up to meet their potential. We want nature to be treasured and climate change prevented to protect us all. But to achieve this kind of Europe, hope is not enough. We need to act, and that means getting people out to vote in May.
While holding off hateful extremists at the ballot box, we can also use our vote to start changing how decisions are made in Europe. Too many of our current batch of EU leaders – particularly our own heads of states – still make policy and decisions based on fear of losing votes to the extremists or to appease corporate lobbyists. A new European Parliament could change that equation, depending on the kind of leaders we vote in there.
The first step is to sign this pledge. Then inform your family and friends about the election, and get them to pledge to vote too.
A better European Union is worth fighting for and the fight starts here. We need to vote for those who join us in saying: "No to hate, yes to change!"
In partnership with: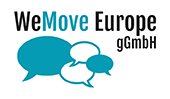 Thanks for signing! Your signature has been added.
As a general rule, the more people who turn out to vote, the harder it is for the people who preach hate as a solution for everything to win. So we can ruin their chances if we get a huge number of people to vote for hope on election day.
Your donation will help pay for the equipment, supplies and team we need to get hundreds of thousands of people out across Europe just before the election. It will create a huge, hopeful buzz of excitement to encourage and remind people to get out and vote.
Time is short – can you chip in for the ads in the paper, placards, design, and social media promotion we need?
Other ways of giving
You can transfer your donation to our bank account
WeMove Europe SCE mbH
IBAN: DE98 4306 0967 1177 7069 00
BIC: GENODEM1GLS, GLS Bank
Berlin, Germany
Donate with

We want to be transparent and accountable about how we spend your donations - for more information please see our
Donation Policy
.
Your personal information will be kept private and held securely. By submitting information you are agreeing to WeMove.EU keeping you informed about campaigns and agree to the use of cookies in accordance with our
privacy policy
.